Our Family
---
Meet the Doctors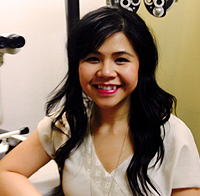 Dr. Yen Dang BSc, OD
Doctor of Optometry
Dr. Dang obtained her Bachelor's of Biological Science from the University of Calgary and her Doctor of Optometry from Pacific University. She is a member of the Canadian and Alberta Optometric Associations and is Optometry Board Certified in both the United States and Canada. Her externships training included cataract and vitreo-retinal disease treatment and management with optometrists and ophthalmologist at OMNI Eye Services in Atlanta. She further diversified her clinical experience in specialty contact lens fitting, pediatrics and geriatrics at various eye clinics.
Dr. Dang has a strong commitment to community service. While in school, she has volunteered her time in numerous community vision care programs and eye care mission projects in Costa Rica. In her free time, she enjoys spending time with family and friends, jogging, and drinking coffee. She believes the best part of her profession is being able to meet new people and having the privilege to use her skills to help you keep good vision and healthy eyes. Dr. Dang believes in taking time with patients and will take special interest in addressing your particular eye care needs. She welcomes all patients and looks forward to caring for you and your family!
---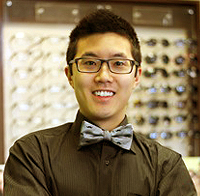 Dr. Anthony Fu BSc, OD
Doctor of Optometry
Dr. Anthony Fu grew up in the prairie town of Saskatoon, Saskatchewan, where he was schooled in both English and Cantonese. He attended the University of Saskatchewan and was awarded High Honours for his Bachelor of Science degree in Anatomy and Cell Biology in 2010. He then attended the University of Waterloo and graduated on the Dean's Honour list as a Doctor of Optometry in 2014.
As part of his clinical training, Dr. Fu spent four months in Baltimore, Maryland, training in ocular diseases under the supervision of Optometrists and Ophthalmologists.  Dr. Fu also travelled to Vancouver B.C. where he worked alongside sports vision specialist Dr. Alan Boyco who is the primary Optometrist for the Vancouver Canucks and the Vancouver White Caps FC. Finally, a 4-month rotation in Calgary, AB gave him additional experience in general optometry including pediatrics, vision training and contact lenses.
Optometry has allowed Dr. Fu to combine his love of travelling with his passion to help individuals in need.  Through VOSH (Volunteer Optometry Services for Humanity) he has travelled to Jamaica to perform free eye exams and give out glasses to deserving individuals. Dr. Fu has also helped to serve the Calgary community by participating in programs which provide eye care services to Calgary's senior populations.
Prior to becoming an Optometrist, Anthony worked summers doing research with Dr. Terra Arnason on yeast proteins for diabetes research. Anthony's many other extra-curricular activities have given him great people skills including volunteering with children as a Day Care worker, and working with vulnerable seniors in a long-term care facility. Along with volunteering Dr. Fu also enjoys getting his fingers dirty working with automobiles and electronics.
Dr. Fu enjoys both competitive and recreational sports and has competed at the provincial and national level for Tae Kwon Do and Soccer.  He also enjoys playing Volleyball, badminton, soccer, swimming, ultimate Frisbee, and dodge ball and loves the great outdoor activities that Calgary and the surrounding region have to offer.
Dr. Fu looks forward to serving the Calgary Community and becoming a part of it as well!
Meet our Staff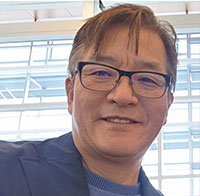 Joseph Park
Licensed Optician & Contact Lens Practitioner
Joseph attended his Optician and contact lens program at Georgian College in Berrie, Ontario. He graduated with honor of distinction in 2004. He was a recipient of Ontario Opticians Association Award for outstanding achievement, an award granted to one person in each graduating class.
Before moving to Canada in 2002, he received Bachelor of Mechanical Engineering degree and Master of Industrial Engineering in Korea. He worked for "Hyundai Motor Company" as an Engineer and "IBM-Korea" as a Software Engineer and Sales Manager.
In Canada, Joseph decided to switch his career to totally new area. He chose the eye care industry as his new profession. Upon graduation and license acquisition, he moved to Calgary. He worked for EyePRO Optometry over 10 years.
Joseph enjoys many outdoor activities such as skiing, golfing, hiking, and marathon running. If you cannot see him at EyePRO Optometry, you may find him at Rocky Mountains or one of golf course.
---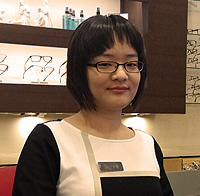 Iris Park
Student Optician
Iris is attending her Optical science course at NAIT, attending her classes in Calgary campus. She started her degree in 2013 and is due to finish in 2015. She plans to continue her studies into contact lens dispensing in the future. Her supervisor, Joseph Park, have been very strict and resourceful in her training.
She was born in Korea and moved to Canada in her childhood. She is fluent in both Korean and English.
Iris has an adventurous spirit and it's interesting to see how she brings forth new interesting ideas to the growing community of ophthalmic practice. She's a busy girl, working while taking her course in optical science while finishing up her university degree in Biological Sciences in University of Calgary. In the distant future, she plans to become a doctor of Optometry.
Iris enjoys outdoor activities such as hiking, skiing, and rock climbing. She also loves to chat, and is always bound to make you giggle.